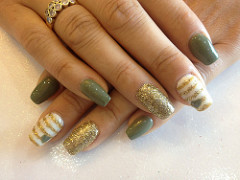 Life as an older woman can be hard at times. It sometimes seems that no matter how much effort we put into keeping yourselves looking young and vibrant, there is always something else sabotaging our appearance and just waiting to give away our true age. You know what it's like; if your skin is good then the roots of your hair need touching up, and then when you're on top of things and having a good hair day your skin is oily or dry. Another one of these belligerent beauty busters can lurk in front of our very eyes in the form of our hands and nails. Choosing the right nail polish for our mature hands is invaluable to avoiding this.
Loose and wrinkly skin, veins, age spots and other signs of our 'maturity' can often undo our best laid beauty preparation and make us look older than we like to. Probably the most important aspect of this is the nail polish we choose to wear or not wear, and the color of said polish. So what is the best nail polish for older women to wear to make their hands look young? Unfortunately there is no big secret to taking 20 years off how old our hands look. (Believe me, I've searched high and low for this!) However there are definitely things we can do. There are a few simple guidelines we can follow that can help us to make sure our nails and hands look their best.
Top Nail Polish Tips For Older Women
Start With A Good Canvas – Look After Your Nails!
Fabulous Filing
Of course this seems obvious but so many people don't look after their nails properly. Much of the time they don't even realize the damage they are doing. For example, using an overly rough or poor quality file can weaken our nails and make them prone to chipping, splitting and breaking. Making sure to use good quality files and look after them is so easy to do. They are not expensive so it definitely pays off to change them regularly and be careful to avoid filing any edge of your nails with a rough, worn or damaged file. There are many bulk packs available on Amazon like this set of 10 that are an easy way to help you keep your nails in great condition.
Care For Your Cuticles
Keep your cuticles in good condition by regularly pushing them back gentle with a cuticle pusher. Do not clip them! Cuticles are there to protect our nails and regularly pushing them back is a good way to keep them healthy and strong. Clipping can scratch your nails and also weaken them, DO NOT DO IT! A good cuticle pusher like this one is not expensive and is an invaluable part of your nail care routine.

Feed Your Nails The Right Nutrients
Zinc, Iron, Vitamin C and Biotin all play an important role in preventing brittle and thin nails. A deficiency in any of these vitamins can be bad news for nails! If you eat a healthy diet you should get enough of these 4 through your food although it has been suggested that a Biotin supplement can help to improve nail health.
So Is There A Best Nail Polish For Older Women?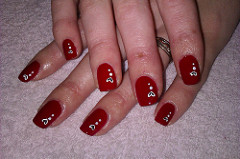 It is hard to definitively say that there is any one best nail polish for older women, as everyone's hands and fingers and coloring is different. Also, what is 'in' changes so rapidly these days that you can get away with almost anything, within reason. If you like shimmery nails, then get your glitter on! Bold shiny colors? Go for it! When it comes to using nail polish to accent your features and hide your flaws I think that the color is the most important thing. That being said, I personally do not like to see big long gel or acrylic nails on someone with more experienced hands, but maybe that is just me showing my age!
---
Best Nail Polish Colors For Older Hands
If you're anything like me, you can't have too many colors. I absolutely love having a massive selection of different polish shades at my disposal. It makes me feel safe. Safe in the knowledge that whatever the occasion, whatever the outfit, whatever the purse, whatever the lipstick I will always be able to find the best color to give me exactly the look I want. I think Covergirl have some great colors, and my favorite ones are from the Outlast Stay Brilliant range. But my collection is by no means limited to just that. When it comes to nail polish colors my motto is, "if in doubt, buy more!"  I am a bit pedantic with my organisation, so I also have a few holders to organize my bottles. Well worth having in my opinion!
---
Banish The Blues
You may remember I did say that color is the most important thing to consider with nail polish. Well generally speaking as we got older the veins in our hands get more noticeable. I don't know about you but I do not like to accent this. Blues and greys tend to highlight any veins and should be avoided.
Put The Pastels Away
In addition to anything with blue in it, I tend to stay away from pastel colors too, they can look washed out and that does not do my elderly skin any favors, I can tell you that!
Bold Is Best
Nice bright red polish always looks good and has a very handy way of drawing attention away from the hands and onto the nails. Personally I think the orange-red spectrum always looks nice. If you have darker or tanned skin then chocolate and even brown colors are nice. Plum, burgundy and anything in that spectrum suits most people too I think. This set of wine inspired polishes is divine!
The great thing about nail polish is that it is relatively cheap, quick and easy to try out different colors and find exactly what you want. It is nice to get a professional manicure but I am also very happy doing my own nails at home, I find something about it to be very therapeutic.
---
Hit The Nail On the Head
Well I hope you got something out of this. Please feel free to comment below with any thoughts or other tips you may have, and I hope you hit the nail on the head with the next color you choose. Have a great day!
---
---
---
---
---
Follow


Share





---