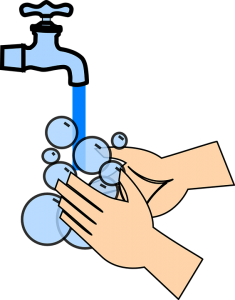 Skin care becomes particularly important as we get older. Especially for women over 60 it is just so important to make sure we are using the best face wash and/or best face cleanser possible to care for our mature skin. Which ones are best varies from person to person, and also from week to week. Heck I know my skin is drier in the winter, and more oily depending how I've been eating! I've spent a lot of time and effort researching and trying out different products over the years and the time has come for me to share the knowledge I have gained. I really hope that I can help people by sharing this knowledge and help you choose the best face wash or cleanser for you.
Face Washing Tips For Women Over 60
Effective skin care is not just about using the best products, the best cleanser or face wash in the world is of no use if you don't use it properly. You know how annoying it is when the freshly washed dog runs off and rolls in the mud; well you wouldn't wash your face and then go rub dirty cooking grease on it would you? These few simple tips will help you keep your face clean and looking good.
Why Should We Wash Our Face
article on skin care 101, it is important to wash you face to remove the build up of dirt, oil bacteria and dead skin cells that can ccumulate during the day, and also during the night. Your skin naturally produces sebum, a protecting oil and if your pores are clogged then this can't get out to the surface of your skin and can lead to breakouts. So it is important to keep your pores clean to allow the layer of protective oils out. Keeping it clean also helps to keep it hydrated.
When To Wash Your Face
We should wash our face both morning and night, and whenever it gets dirty. You can generally feel when your face is dirty or greasy, for example after frying up some bacon or something. As well as removing your makeup and washing your face at the end of the day, it is also important to wash it in the morning. Oils, bacteria and dead skin cells build up while we sleep overnight and it is important to cleanse this before putting on makeup in the morning.
How To Wash Your Face
Most people know how to wash their face, so I will not go into too much detail here. However the video below is a good guide and I think it's worth watching.
---
My Best Face Washes And Cleansers For Women Over 60
So now that we have the basics down, it is time to choose a face wash/cleanser. First I will present a few general guidelines that can help you with your skin cleaning routine, and then I will give a brief overview of my top 3 recommended products for oily skin, dry skin and also what I think is a great value face wash for women with mature skin.
General Information
If you wear a lot of makeup during the day then you can either go for a stronger face wash or it is also ok to use a makeup remover and then wash your face with a gentle cleanser afterwards.
Generally speaking, cream cleansers are good for dry skin and foaming face washes are good for oily skin though of course there are always exceptions.
There is no single best face wash for every situation. Sometimes my skin is oily and sometimes it is dry, so I use a different wash depending whats happening with my face at the time.
Best Face Wash For Women Over 60 With Oily Skin
For older women with oily skin, finding the best way to wash it and keep the oil under control can be a huge headache. The only way I know of to avoid breaking out is to keep my face clean and pray pray pray! There are plenty of face washes out there for oily skin and I think one of the best would have to be the Oil Control cleanser by Concept Skin. It comes out slightly bluish and easily lathers into a nice foam and feels really great to apply. It has a lovely subtle fragrance almost like lemonade soda which I personally love! Most importantly, it controls oil build up really well and I can go a whole day without blotting or touching up my makeup! I do not hesitate in recommending this face wash.
---
Best Dry Skin Face Wash For Older Women
Dry skin can be so frustrating! Sometimes it may seem that no amount of moisturizer can fix it! Well using the wrong face wash may be causing this. Facial cleansing can often dry the skin out, especially when there are other factors involved such as windy weather, dry air, alcohol and many others. For older women with dry skin, using a good face wash that is made for dry skin can be a savior. The product I recommend and also use when my skin is dry is the CeraVe Hydrating Cleanser. It has an even pH (5.5) which is very important, especially for women over 60 with dry skin. As far as face washes go it is fairly gentle on my face, while still being able to remove my makeup in one go. I usually clean my makeup off and then give it another light cleanse to make sure I've got my face really clean. I have heard of many dermatologists recommending this and I know why – it works great!
---
Good Value Face Wash For Older Women Over 60
If you are looking for an all round good value face wash then I think you can't go wrong with the Vitamin C Facial Cleanser by InstaNatural. The InstaNatural company has a great range of skin and hair care products and this gel-to-lather cleanser is no exception. A little bit goes a long way as it really seems to lather up a bit more than other gels I have used. It is suitable for oily, normal and dry skin and because it is a fairly small container (6.7 Oz) I take this with me when I travel as it covers all bases. I love that it is organic and feel like I am making my skin healthier every time I use it. It easily removes makeup without smelling or feeling harsh. The only bad thing I have to say about it is that the lovely vitamin C smell that some of the other InstaNatural vitamin C products have is missing from this product. It is pretty much odorless which is fine but I just like the fragrance that the other products have. All in all I think it is a great product and definitely recommend it, especially if you have normal skin that is occasionally oily or dry.
---
Thanks For Reading
Well, you made it to the end of my post. Hopefully I was able to help you choose what may well be the best face wash/cleaner you have ever tried. Don't forget to wash your face regularly and if you found this article good then you may also like this one: Skin care for older women – skin care for aging skin. Also please follow me on Facebook, Twitter and Google +. Thanks for reading and have a great day!
---
---
---
---
Bonus Video – Cute Puppies!
---
---
---
Follow


Share





---