Turning 40 was a really difficult transition for me; it felt like I was kissing my youth goodbye. Funnily enough, I look back now and would give anything to be 40 again. Using hindsight and putting everything into perspective I can now appreciate how truly young 40 is! However for me it was in my forties that my skin started changing. The cheap Walmart foundation I had been using for years was starting to crease and I felt like my fine lines were being highlighted. It was at this point that I embarked upon my quest to find the best foundations for women over 40, that society unfairly calls older women.
I tried numerous foundations; some I felt were too heavy and thick while others didn't give me enough coverage. I was like my skin wasn't young enough for the cheaper foundations I used to wear in my 20s and 30s and it wasn't old enough for the ones made for mature skin. In the end I went to a makeup consultant and she was great – she helped me narrow down to about 5 different ones that worked for me. I ended up going home with 3 foundations that day and alternated between those 3 for about 7 years.
More importantly though, I also went home with an abundance of new knowledge. She taught me about the key factors that determine the suitability of different products for different skin types and different individual requirements. This was the beginning of my obsession with makeup for aging skin and decades later (I'm not saying how many!) my obsession is even greater.
My daughters have been pestering me for years to document my knowledge however I was always too busy. Now I have a bit more time on my hands so I've decided to give it a go. Trying to find a foundation that worked for my 40 year old skin was the catalyst for me so I thought it appropriate that I start with this.
Best Foundation for Older Women
I like the number 5 so I'm going to start with what I consider to be the best 5 foundations for older women over 40 to use on their beautiful skin. Everyone is a little bit different and you can definitely go deeper to match your individual skin but there is an awful lot of things to consider here and the thought of trying to write this down on my first go is absolutely overwhelming. The 5 products I'm going to list below are suitable for the majority of women over 40 so without further ado, here goes nothing!
#5 – L'Oreal Age Perfect Makeup Foundation Review
This is a fantastic product and I still cannot believe that L'Oreal decided to discontinue it. It is more of a cream than a liquid but still goes on really easily and provides great coverage without cracking. Unfortunately you can only really get it on Amazon now but thankfully you can still be lucky enough to get it and if you get the opportunity I advise stocking up as it is a really great product.
It is also really affordable compared to some of the other products made for mature skin so you really can't go wrong. The only thing that has stopped my from rating it higher is the fact that L'Oreal are no longer making it so sooner or later you may not be able to get any more. It also comes with a nice little foundation brush to add to your tool bag.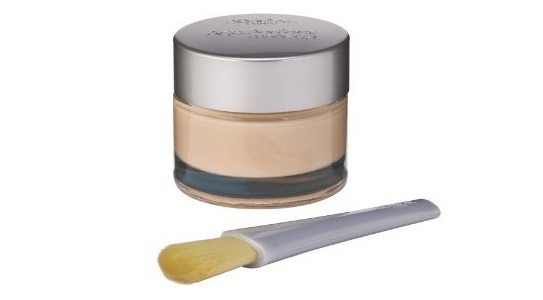 ---
#4 – Bella Mari Moisturizing Foundation Review
When you think about all the things our skin is exposed to nowadays it really highlights the need to look after and protect our skin as best we can. The Bella Mari moisturizing foundation is one product that can help us do just that. Short of going out and collecting some plants, bringing them home and putting them on your face this foundation is about as natural as it gets. It has no nano particles, synthetic preservatives, petrolatum, methicone, p-phenylenediamine, parabens or any of the other things commonly found in many foundations and moisturizers.
This makes it very suitable for those of you with skin allergies and you can bet that it is also free from gluten, dairy, peanuts, soy etc as well. Of course it is also free of synthetic dyes and fragrances too. Despite this it actually has a rather nice scent (you can't beat nature!). It goes on evenly and provides good coverage and this is a makeup that you can feel good about wearing as it is also vegan and made right here in the USA. For the price and features you really can't go wrong.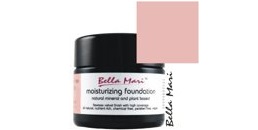 ---
#3 – Vapour Organic Beauty Atmosphere Luminous Foundation Review
Much like the Bella Mari foundation the Vapour Organic Beauty Atmosphere Luminous Foundation is made from 70% organic ingredients with the rest being made up of mineral pigments so there is no need to worry about artificial dyes. It also has moisturizing properties with the inclusion of Lotus flowers which I really like. For skin that is starting to age a little regular moisturizing is an absolute must so it is nice to have it in your foundation.
Another thing I like about this product is the smell. It may not appeal to everyone as it is somewhat strong but I like it. It has a quite herby smell which is mainly due to the Frankincense and to me this is much nicer than the chemically smell that many of the higher performing foundations have. In terms of application it is a great consistency so it is good for all skin types. It goes on easily and provides good coverage of fine lines and is particularly good at making those pesky pores disappear. It is a bit more expensive than the previous two but well worth it in my opinion.
---
#2 – Laura Mercier Moisturizing Foundation Review
You are probably already familiar with Laura Mercier but if you aren't I can tell you she is a world renowned French makeup artist whose rise to the top was triggered in part by her role as Madonna's personal makeup artist. If you look through old Elle and Vogue magazines you will see her work everywhere. She has had a long and illustrious career and the products in her very popular 'Flawless Face' makeup range really reflect this.
The moisturizing foundation is on the next level and you can tell that it is a professional grade product as soon as it touches your fingers. It is pleasant to apply and mixes clear with water and washes off completely so your clothes will thank you too. Often you find these top shelf products require touching up after a few hours but this product lasts a lot longer than expected. You can easily get through a whole day with this foundation. It provides great coverage of pores, fine lines and even wrinkles. Smile lines will not crack it and blotchy skin is a thing of the past. I have no hesitation in recommending this product to anyone.
---
#1 – Shiseido The Makeup Dual Balancing Foundation Review
Shiseido is one of the oldest cosmetic companies in the world and after more than 140 years this Japanese powerhouse is still going strong. You might ask what a Japanese company would know about makeup for aging skin but I can tell you they know a heck of a lot! It is well known that Japanese women have smoother and younger looking skin than their western counterparts but older Japanese women experience the same if not more age related deterioration and Shiseido has almost one and a half centuries of experience in dealing with this.
I would say that the Dual Balancing Foundation formula is the top of the line foundation for women in their forties. For full to medium and even light coverage this product is perfect. It has a semi matte finish so is perfect for photos and just about every type of light you could possibly find yourself in. It does not cake and provides fantastic coverage of fine lines, pores, dark spots, uneven tones and even wrinkles. It does not crack and even the deepest smile lines are no match for it!
If you can afford it then this is the foundation you should be buying. If you can't afford it then I suggest skimping on a few other things to get some of this. Its advanced formulation is suitable for dry, oily or combination skin types and for ladies over forty this is a must for the makeup cabinet.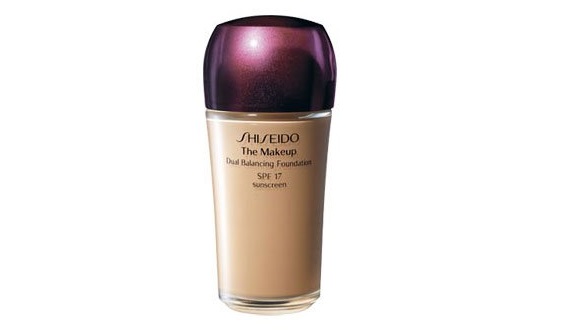 ---
---
Thank You!
Thank you for reading my reviews about what I think are the best foundations for women over 40. If you found this helpful or have anything to add I would love to hear from you. You can either send me an email to mary@marysfountainofyouth.com or leave a comment below. You can also check out my Facebook and Google + pages by clicking on the links below to the right of "Follow". Thanks again and have a great day!
---
---
---
Follow


Share





---