One of the biggest challenges to looking as beautiful as can while we age is dealing with the skin around and under our eyes. Dark circles are no big deal when we are young and our skin is smooth and tight – resolution of dark circles is as simple as a bit of concealer, or even just extra foundation if we are really lucky. However as we age the skin around and under our eyes gets looser and the words puffy and wrinkle start to become horrifyingly meaningful. If we are not careful then makeup can accentuate rather than hide anything undesirable that our skin decides to do. Even Leonardo da Vinci would struggle to paint a nice picture when faced with a canvas like my face after a night of too many wines or too little sleep. To combat this I have become increasingly reliant on concealer – a good concealer is almost as essential to me as water and air these days. In order to find the best under eye concealer for my mature skin I have searched far and wide, and bought (and quickly thrown out!) more concealers than you would care to imagine. Without giving too much away, lets just say that I have been pursuing the holy grail of concealer for my aging skin for more than 20 years.
More Bags Than An Airport!
Waking up with dark circles under our eyes is definitely not a good thing, and something that seems to happen more often as we get older. This is especially true when children come into the picture – they say you can tell a new mother by the size of her bags. (Both the bags under her eyes and also the handbags she carries, stuffed full of baby supplies!) However it's not just lack of sleep that is responsible for this terrible affliction of under eye bagginess; caffeine, alcohol, dehydration and and low iron can also cause dark circles.
Can I Avoid Bags Naturally?
Well some people are lucky and don't have to worry too much about bags and dark circles. Lucky indeed! However I personally think that most people experience them and those that don't are lucky enough to have been born with extraordinary genetics and/or have the luxury of a lifestyle that enables them to look after themselves. To give yourself the best chance at avoiding bags and not having to use concealer under your eyes then you can do the following things to help:
make sure you are getting plenty of vitamins and minerals in your diet (take a multivitamin if necessary),
exercise regularly,
make an effort to get enough sleep,
drink lots of water and
in the evening avoid diuretics such as caffeine, alcohol and foods high in salt.
So there are things we can do to minimize the risk of waking up looking like a raccoon but in reality there are a host of reasons we may experience dark circles. This reddit post gives a great insight. So despite all precautions there are most likely going to be lots of times in our lives when we need to use concealer.
Your Best Weapon In The War Against Bags is Concealer
Unfortunately, for some people dark circles are just something that are there and have to be dealt with. Whether it's due to thin skin under the eyes or the factors listed above they are present and need to be dealt with. Concealer is your ally in the fight against under eye bags. It is made to be used on small discolored areas of your face to create a more even platform for foundation to be applied over. By no means is it a substitute for foundation. The general rule here is to use a concealer that's one or two shades lighter than the color of your skin. Like all makeup less is more so do not spread it on, dabbing it works best if you are using your fingers. If you need serious coverage I would recommend using a good concealer brush to apply it – it will help you blend it and gives you more control than your fingers. I highly recommend getting yourself something like the Sephora brushes below, this made a huge difference for me. The Sephora wand is really great as all the different brush heads fit neatly into the one wand.
Check out makeup brushes on Amazon.com here
---
My Best Rated Under Eye Concealers For Mature Skin
I wrote this post in 2015 but have recently updated it to reflect what I have learned in 2016 and what I know now in 2017. When it comes to using concealer under our eyes, it is usually to hide dark circles or uneven skin tone. I still think it is best to have one product for hiding dark circles, another for uneven and discolored skin and I also like to keep a multipurpose combination all round hide it all concealer.
My Best Under Eye Concealer for Hiding Dark Circles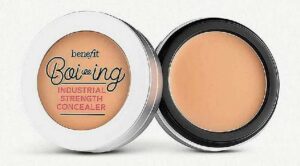 The Benefit Cosmetics Boi-ing Industrial Strength Full Coverage Concealer would have to be the best performing concealer I've ever used when it comes to covering dark circles. If you've missed a LOT of sleep then this could be your savior. It provides fantastic coverage and blends really well, even when you wake up looking like a raccoon and have to really pile it on. Well the best thing about this is that you don't actually have to pile it on because it covers so well. The skin under my eyes is not as tight as it once was so I try to minimize the amount of product used here and the erase paste covers well without a thick application which suits me perfectly.
---
My Best Under Eye Concealer for Uneven and Discolored Skin
When celebrities branch out with products outside of their usual area of expertise the results are often terrible. In this case though, Fashion guru Giorgio Armani has really excelled with the GIORGIO ARMANI POWER FABRIC HIGH COVERAGE STRETCHABLE CONCEALER 5.5. He has put out quite a lot of beauty products including different kinds of makeup and from my experience some have been good and others have been garbage. This concealer is great though – it's amazing for pigmentation, freckles, spots, blemishes etc. It can disguise undesired marks of almost any color on my face and is a must for any makeup bag.
---
My Best Combination Under Eye Concealer
For an all round emergency concealer to keep in your purse, you can't go
past Physicians Formula Concealer Twins Cream Concealers. It comes as a neat little two in one package with a light fleshy color on one end and a green on the other. It's not a high end concealer but it's very good for the price and is certainly good enough to get you out of trouble. It has a really nice creamy consistency and a super smooth fine finish. The green hides any red blotchiness so well and I just find it so handy to have both colors in the one stick – Lord knows I have enough junk in my bag already!
---
---
Dark Circles And Puffiness?
If you have both dark bags and puffiness under your eyes then a concealer can only help you so much. You will want to use a different kind of product, I have written about what I think the best ones are in this article: how to reduce under eye puffiness.
---
---
Video – How to hide dark undereye circles
---
Follow


Share





---